Scotland > Assynt and Sutherland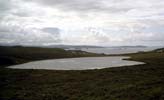 The beginning of the path to Sandwood bay from Blairmore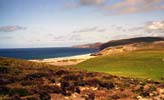 At the end of the path, Sandwood bay lies under the sun
Sandwood bay is probably one of the most beautiful beaches we ever saw. Two kilometers of sand surronded by dunes and cliffs. Moreover the beach can only be reached after a six kilometer walk. Even if this walk is rather popular the beach is large enough for everyone.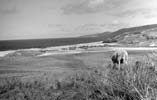 The gentle slopes leading to Sandwood bay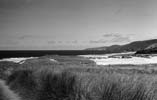 At last the beach lies behind the dunes
Sandwood deserted cottage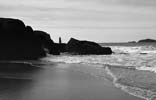 The stack of Sandwood bay, looking south
The easiest and quickest way to Sandwood bay is from the south. First go to Kinlochbervie, then continue westward toward Oldshoremore and Sheigra. The shortest path starts from Blairmore car park, just before Sheigra. Be careful, this car park is easily full, when we got there we took the last remaining space. The path is easily found. Do not forget to leave a coin for the John Muir trust which takes care of the place. The path itself is of little interest, it is only a broad path slithering along lochs, lochans and sheeps. There is no view to the sea from the path except at the end, it is rather flat and is not particularly difficult. The walk is quite monotonous and one can become impatient. Before the end, the path runs between two sticks and suddenly, the view on the bay appears.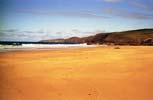 Sandwood bay, looking north. The beach goes on for several kilometers. There is room for everyone, even on busy days
The stack of Sandwood bay, looking south
Once there, the beach is open for exploration. Southward, an old man looms over the ocean. Northward, the cliffs lead to cape Wrath. The day we came, a lot of people were also there but the beach is wide enough for everyone to feel alone in the whole world. At the end, we ought to go, our hearts torn away...
Follow this link to see all the pictures.
Some links:
Undiscovered Scotland: www.undiscoveredscotland.co.uk/kinlochbervie/sandwoodbay/index.html
The John Muir trust: www.jmt.org/cons/sand/index.html
---
About feorag.net | Site map | Contact us | ©2004-2006 Emmanuel and Valérie Villéger