Scotland > Assynt and Sutherland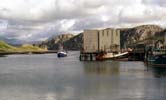 Kinlochbervie fishing port

Leaving Kinlochbervie
In spite of its remote location, Kinlochbervie is in fact a thriving fishing port. From the end of the pier, one can watch the coming and going of the boats and the big lorries which deliver the fishes all over Europe. The surronding are mountainous and it is a welcome break on the trip back from nearby Sandwood bay.
Leaving Kinlochbervie, be sure to watch out for the view over Assynt.
Folllow this link to see all the pictures.
---
About feorag.net | Site map | Contact us | ©2004-2006 Emmanuel and Valérie Villéger