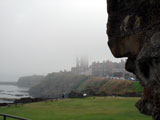 The cathedral from St Andrews castle
Saint Andrews is a renowned college as well as the homeland of golf. The college which was founded in 1410 is the oldest of Scotland. Saint Andrews was also the center of the catholic Church in Scotland. The cathedral built between 1160 and 1318 was the biggest of the country. Saint Andrews became in 1472 an archdiocese and thrived until the reform. During the 12th century, a castle was built for the bishop. It was his personal house, on top of this strategic cliff. The castle which remains nowadays was built during the 14th century.
Main door of St Andrews castle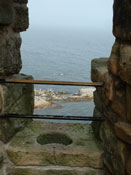 St Andrews castle, toilets over the sea.
When we went there, a heavy fog was hiding the edge of Saint Andrews whereas the sky was clear a few miles back. This foggy atmosphere was an asset for the place which was really mysterious and romantic. We had only a couple of hours to visit Saint Andrews. We spent most of that time in the castle. In the remains, we saw the deep dungeon where numerous protestants were locked up and the quaint latrines directly over the sea. The castle was caught in the middle of the independance wars and the religious struggles. The bishop David Beaton (16th century) had the protestant preacher burnt alive in front of the castle. SOme time later the bishop was murdered and his body was put on the top of the walls. The following siege left many scars on the grounds of the castle. The attacker digged a tunnel to get inside the fortress. The defender digged a counter-mine to stop the attackers. It is possible to visit this very narrow and dark tunnel. The visitor center which is put next to the castle tells very vividly the story of the place.
One goes to the cathedral strolling along the sea. The top of the remaining towers disappears in the clouds. We had little time to walk among the ruins.
| | | |
| --- | --- | --- |
| St Andrews cathedral | St Andrews cathedral | St Andrews cathedral |
Saint Andrews lacks the wonderfull landscapes of the Highlands but there is still many things to see in this charming place.
Follow this link to see all the pictures.
Link:
Saint Andrews site: www.saint-andrews.co.uk
---
About feorag.net | Site map | Contact us | ©2004-2006 Emmanuel and Valérie Villéger