Arriving in Portree, general view with the Old Man of Storr above

The bay of Portree and the harbour
First view in the morning from Gleniffer house, Portree.
Portree is the biggest city of the isle of Skye, it offers every commodities and especially a big supermarket. It is an excellent base for exploring Skye and in particular Trotternish to the north. Portree is full of life and has numerous craft shops.
There are many self catering or B&B available. We went trhee times to Portree. We spend twice one week in Penifiler, at the other side of Loch Portree, at the base of Ben Tianavaig. The place is quiet and rather cheap but the bogs nearby attract the midges. From Penifiler the views over Portree and to the Storr with its old man can be gorgeous. We also stayed two weeks directly in the port, at Gleniffer house, with the great pleasure of enjoying every single day a magnificent panorama even on wet days.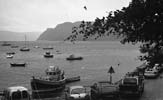 Harbour of Portree

The picturesque houses of Portree's harbour
From Portree there is an easy coastal walk starting from the car park at the end of the road which follows the sea. This walk offers fine views of Ben Tianavaig, Raasay and the old man of Storr (Pathfinder guide, Skye and the North West Highlands, walk 1).
A short stroll starts just above the port of Portree, next to the church and ends at the hospital at the other side runing along the sea.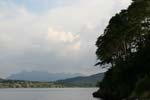 Cuillins view from the end of the pier, Portree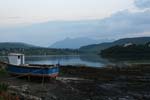 Cuillins view from Portree
If the weather is fine, the Cuillins can be spotted from some places in Portree. For example from Bosville terrace above the port, or at the end of the pier. They can also be seen along loch Portree. Unfortunately, this was a rare view for us.
When Ben Tianavaig disappears.

Foggy Portree
On the contrary, the outline of Ben Tianavaig is rarely hidden, execept when fog is really thick...

Follow this link to see more pictures.
---
About feorag.net | Site map | Contact us | ©2004-2006 Emmanuel and Valérie Villéger