Mountains of the Glencoe, from Clachaig Inn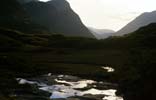 Pass of Glencoe, at dusk, a midgy place
The Glen Coe and its breathtaking landscapes is well reknown in the highlands, a hillwalkers heaven. Unfortunately Glen Coe is the place of a terrible massacre. Tired of the Jacobites unrests, king William III give the clan chieftains an ultimatum, they had to take an oath of allegiance by New Year's Day 1692. When the chief of clan MacDonald missed this day by a few days, an example was to be made. Campbell of Glenlyon and is soldiers were receiving hospitality for ten days at Glen Coe when the morning of the 13th of february the soldiers slaughtered the MacDonalds. Those which were not killed there died by frost in the hills where they fleed.

View from the Bed and Breakfast of An Darag and river Coe runs through it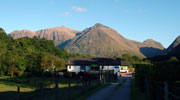 View from the Bed and Breakfast of An Darag and river Coe runs through it
We spent two nights in the Bed and Breakfast An Darag. Beside the warm welcome, the place is not expensive considering the quality of the accomodation, the location is perfect. At the end of the main road, along the path running along the river Coe, the bed and breakfast has an awesome view on the hills. The view from the breakfast lounge is wonderfull. To close the frame some horses are feeding quietly on the grass of the fields. Only the morning and dusk midges are on the negative part. This is a bed and breakfast we strongly recommend.
Glencoe from the visitor center

Mountains of the Glencoe, from Clachaig Inn
Clachaig Inn is the rendez-vous point of hillwalkers, be it to hire gear, drink or bite a morsel. At the foot of the hill the mood of the hill is quite like the Alps' chalets. At the end of the day the light is fantastic, but like after every day of fine weather, in less than a minute midges are everywhere around and on us.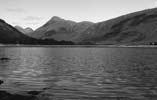 Loch Etive
A small but interesting car-tour from Glencoe is the road along Glen Etive. It reaches Loch Etive, a nice place to watch the shadows of the clouds running on the hills.

Ballachulish old slate quarry

Ballachulish old slate quarry
There are also some traces of the industrial past of the neighbourhood. At the other side of Loch Leven is located Kinlochleven. The place was living off aluminium industry. Today, it is quiet and a little sad. In the library, there is a small exhibition about the local industry. At Ballachulish, there is a former slate quarry that is open to public.
And to end the day, on a quiet evening, without any wind, Loch Leven is turned into a mirror.
Follow this link to see all the photos.
| | |
| --- | --- |
| Loch Leven is like a mirror on a quiet day, from the harbour of Glencoe | Loch Leven is like a mirror on a quiet day, from the harbour of Glencoe |
Some links:
An Darag Bed and Breakfast: www.bedandbreakfastglencoe.co.uk
Official website of Fort William and its neighbourhood: www.visit-fortwilliam.co.uk
---
About feorag.net | Site map | Contact us | ©2004-2006 Emmanuel and Valérie Villéger