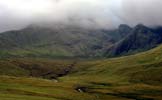 Glenbrittle, in the middle of the Cuillins Hills
The Cuillins hills are a major attraction of Skye. They can be easily recognize from far if the clouds permit. There are three main wayto go to the Cuillins, by boat from Elgol, from the north at Sligachan or from the west at Glen Brittle.
Glen Brittle is a good way to get near the Cuillins when clouds would not rise. Glen Brittle is a starting point for walks in the Cuillins and there is also a great beach with black and white sands.
At the other side of loch Sligachan, in front of the black Cuillins with sharp peaks, there lies the Red hills with there round-toped peaks. To go through the Red hills onehas to drive on the road to Elgol.
Follow this link to see all the photos.
| | | |
| --- | --- | --- |
| Red Hills of Skye | Red Hills of Skye | Red Hills of Skye |
Some links:
undiscovered Scotland's page on Glen Brittle: www.undiscoveredscotland.co.uk/skye/glenbrittle
Glen Brittle youth hostel: www.syha.org.uk.syha/web/site/Hosterls/Glenbrittle.asp
---
About feorag.net | Site map | Contact us | ©2004-2006 Emmanuel and Valérie Villéger